INVITATION
The public is invited to join us for a momentous occasion as we break ground for the new fire station on Monday, April 3, 2023. The groundbreaking ceremony is an important milestone for our community, and we hope that you will be able to attend.
The ceremony will take place at the site of the new fire station, located on School Street starting at 5:00 p.m. The new fire station will provide state-of-the-art facilities for our firefighters and emergency responders, allowing them to better serve and protect our community.
We want to thank all Limerick citizens for investing in the safety and well-being of our town's men, women, children, and all that visit us, and we look forward to celebrating this important step in the construction process with you.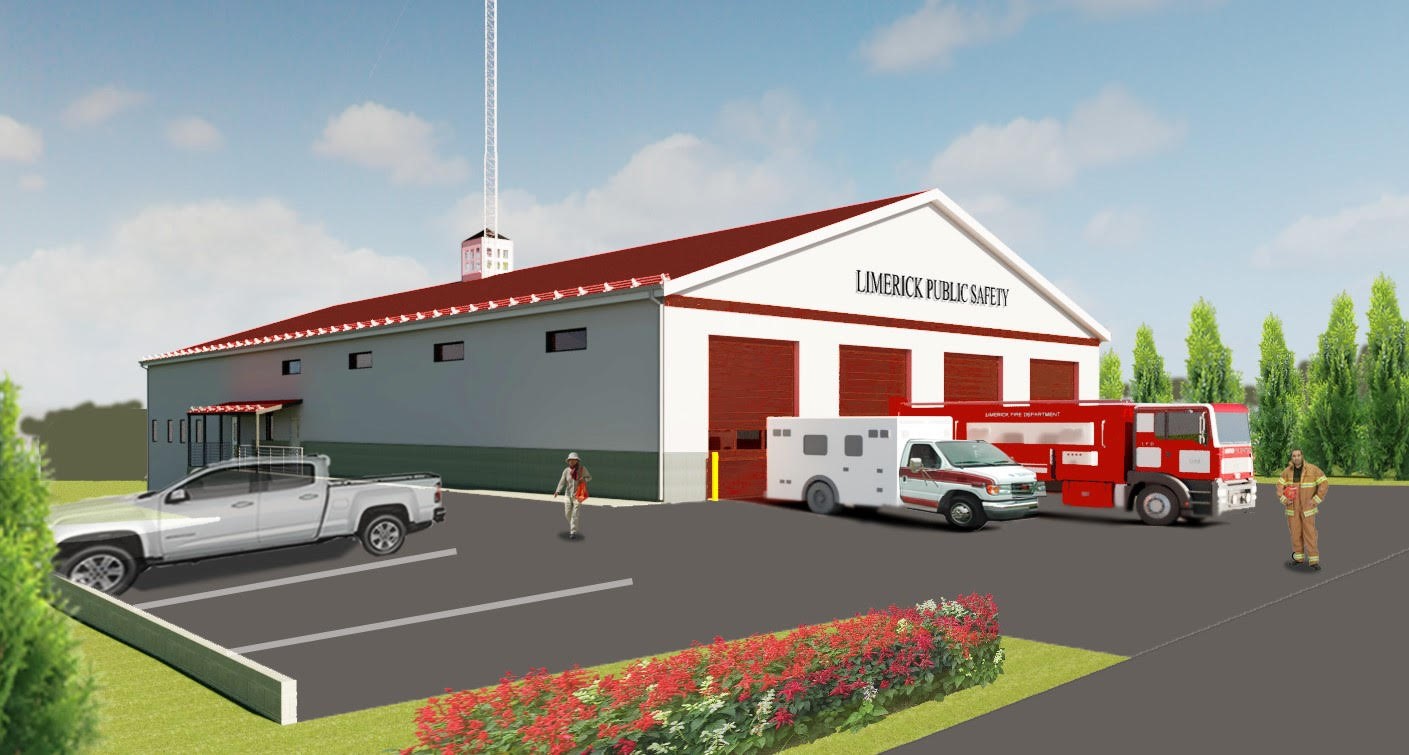 Groundbreaking
Ceremony
April 3, 2023
5 p.m.
School Street
Bob Richardson Retires

Selectboard member
John Medici presented Bob Richardson with a
plaque recognizing his service to the town at the 3/13/23 Select Board Meeting. Bob has been Road Commissioner for
41 years. John began: So for all you've done:
'This recognizes Robert Richardson for decades of
outstanding service to the citizens of Limerick Maine
Your work ethic will never be matched!
Happy Retirement
March 11, 2023'
Senator King Visit
Senator Angus King visited Limerick to review the Hollandville and the New Fire Station projects on Friday March 10, 2023.
Sen. King stated "Both good projects, both very needed. Water project you can't see it; but everyone will know it. Great Projects! Exactly the right projects for our
Congressional Spending program".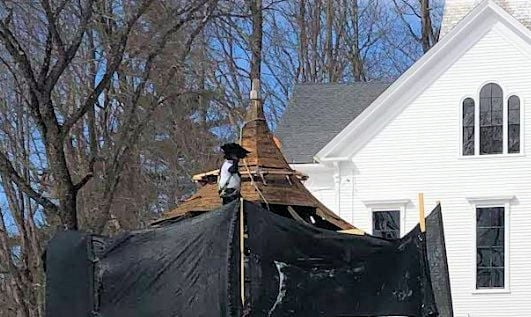 OUT
WITH
THE
OLD
IN

WITH
THE

RE-NEW-AL!
Limerick
Steeplejacks
at work. 3/10/2023
RSU 57 is in the midst of creating a Strategic Plan that will guide the work of our district for the next 3-5 years. Our Strategic Planning Committee is composed of teachers, administrators, parents, community members and school board members. The committee is seeking feedback from community members residing within the 6 RSU 57 communities. To that end, we are hoping that each municipality could assist in getting the link below to a Community Survey out to the residents of each community in whatever manner you deem best. We are hoping to get feedback from as many members of our RSU 57 community as possible to help guide this important work. Thank you for your assistance in getting this survey link out to RSU 57 residents.
Community Survey
Dept of Justice on ADA @ BTH
June 9, 2022
Check out
Opportunities page. Your town needs YOU

Our hope is that you will find information that is

meaningful and relevant to you on our site.
If you would like to get involved and serve on a Committee, let us know!
Select Board's Meeting are on Monday at 7:00 p.m.
at the Municipal Building 55 Washington Street.
(Unless it is a Holiday, then Tuesday)
Join us in person or watch meetings on Spectrum Cable Channel 5
or the internet Livestream on SRC-TV.org.
Any questions for non-attendees may be emailed to
selectboardadmin@limerickme.org
Livestream Archive for Municipal Building meetings now accessed by clicking Municipal Bldg Icon at
SRC-TV.org on the internet..

Contact Us:

Office Hours:
Town Clerk/Tax Collector
Monday-Friday
9.00 a.m. - 12: noon
1:00 p.m. - 4:45 p.m.
Treasurer
Tues., & Thurs.
10:00 a.m. - 12 noon
1:30 p.m. - 5:00 p.m.
Wed.
9:00 a.m. - 12 noon
1:30 p.m. - 5:00 p.m.
Select Board Admin
Monday 1-5pm, Wednesday, Friday
9-3:30pm